Harlem Globetrotters Group Pricing and Information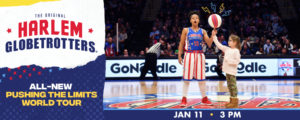 For a list of Harlem Globetrotters Experiences:
*subject to availability
2020 Harlem Globetrotters Group Pricing: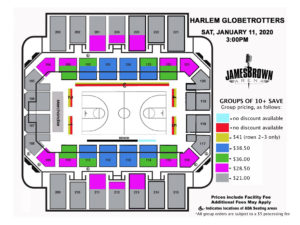 *Orders are subject to a $5 processing fee
The world famous Harlem Globetrotters, featuring larger-than-life entertainers, will bring their ALL NEW show, Pushing the Limits, to James Brown Arena on January 11th. Don't miss your chance to get up close and personal with a star-studded roster including Big Easy Lofton, Hi-Lite Bruton, and women stars TNT Lister, Swish Sutton, and Torch George*. Every show features a blend of hilarious hi-jinks and incredible basketball skills including ball handling, high-flying dunks, and a new record-breaking attempt. The Harlem Globetrotters are a one-of-a-kind experience, putting a new spin on family time. You won't want to miss these memories worth repeating, so get your tickets today!
*Roster subject to change